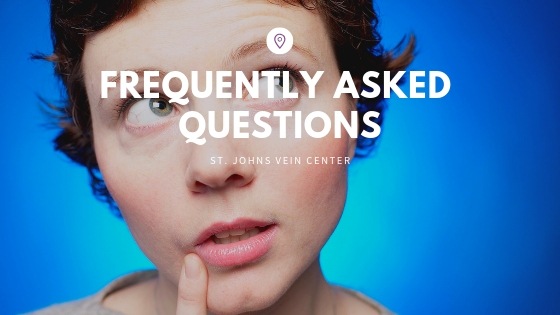 Vein Treatment FAQs – Common questions about vein treatment answered by our vein experts.
What Makes St Johns Vein Center Unique?
St. Johns Vein Center is an IAC (Intersocietal Accreditation Commission) accredited vein center in Northeast Florida provider of Vascular Testing. As one of only a few accredited centers in Florida, we are dedicated to providing the highest level of care to our patients.
---
What are varicose veins?
Varicose veins are unusually swelled blood vessels that bulge beneath the skin, causing a knotted, often blue-tinged look.
---
What causes varicose veins?
For multiple reasons, blood vessels can weaken, making them less able to quickly and effectively pump blood back up the body to the heart. As a result, blood can pool backwards, causing blood vessels to bulge.
---
Who is most at risk?
Anyone can get varicose veins, but they're most common in adult women, particularly during pregnancy and menopause. Aging, sedentary lifestyles and spending a great deal of time on your feet daily also are factors in developing varicose veins.
---
Does my insurance cover it?
Most insurance plans cover these medical procedures but we suggest you confirm with your provider.
We accept:
Aetna Healthcare (all plan types)
Avmed Health Plans
Florida Blue
Golden Rule
Humana
Medicare
MultiPlan Network
RailRoad Medicare
Tricare
UMR
United Healthcare
PHCS Savility
PHCS Network
*Please note that we do not participate in any type of Medicaid plans
If you do not see your provider listed, please call us to confirm.
---
What are the different types of vein conditions?
It is estimated that nearly 25% of the world's population (mostly adults) suffer from some type of vein problems. These vein issues can range from very minor conditions like chronic venous insufficiency to more rare and life threatening conditions like venous thrombosis. Below are some more vein treatment faqs.
---
Some of the more common types of vein conditions are:
Varicose Veins
Spider Veins
Blue Veins
Pelvic and Labial Varicose Veins
Chronic Venous Insufficiency
Leg Ulcers
Restless Leg Syndrome
---
Why should I see a specialist?
Would you see a dermatologist or podiatrist for a blocked artery? Of course you wouldn't. When seeking vascular treatment, you should choose a vein practice that is dedicated ONLY to the treatment of veins. Many physicians and practices advertise themselves as vein specialists or centers, but advertising can be misleading. Many of those so-called "specialist" physicians practice in an unrelated specialty with no formal training in vascular disease. Often, these physicians' primary practice is in another specialty altogether, such as podiatry, cardiology, dermatology or general surgery. These "centers" operate part time and only provide "vein treatment" a day or even half a day each week.
A true vein specialist or dedicated vein center should have thorough, formal specialty training and advanced experience in venous disease. Make sure your physician has completed a fellowship in a specialty that provided advanced training in venous disorders as recognized by the American Board of Medical Specialties  (ABMS). The only two types of certified specialists who meet these requirements are interventional radiologists and vascular surgeons.
---