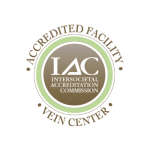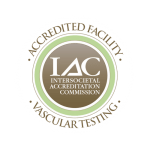 Varicose and Spider Vein Treatment
St. Johns Vein Center is accredited by the IAC (Intersocietal Accreditation Commission) both as a Vein Center and provider of Vascular Testing. Trust your varicose and spider vein treatment with our staff of dedicated vein specialists and interventional radiologists.
Our dedicated vein treatment centers can diagnosis and treat both medical and cosmetic vein conditions including Varicose Veins, Spider Veins, Blue Veins and more.
Telehealth appointments are available, call for more info. All of our providers have been vaccinated.
Buildup of fatty deposits in the blood vessels that causes hardening of arteries.
JACKSONVILLE'S VARICOSE AND SPIDER VEIN TREATMENT EXPERTS
Our Board Certified Vein Specialists and Interventional Radiologists have over 20+ years of experience and knowledge treating and diagnosing vein conditions. Using the latest and most advanced treatment approaches, and giving each patient a high degree of personalized attention, we specialize in developing treatment plans perfectly tailored to each patient's unique case.
Experience the change that great legs can offer with the doctors and staff at St. Johns Vein Center.
St. John's Vein Center is a first rate organization. I have been in the medical field for over 20 years and was supremely impressed with every facet of my experience. Scheduling was easy, the check in experience was efficient and the Front Desk staff were friendly and helpful. The MA/Surgery tech (both of them, I had 2) were professional, caring, friendly and paid attention to detail. My physician was friendly, knowledgeable, professional and explained things in such a way that they were easily understood by someone who might not be familiar with the procedure. During the vein procedure itself my physician explained what he was doing each step of the way. I highly recommend this facility.
Laura E.
I was very pleased with the visit and the treatment of all of my spider veins and varicose veins. My legs now feel great and they look great now. I would recommend St. John's Vein Center to take care of any of your vein problems to anyone who has the ugly varicose and spider veins. The treatment is very easy, quick and not painful at all. I'm thrilled with the results!!!!!! I'm amazed!
James M.
The best assistant (Danny) and the Doctor has a great attitude. They took the best care of me explaining everything they were doing.
Richard D.
I have been going too St Johns Vein Clinic for several years. Dr St George did a wonderful job of saving my legs which were in bad condition when I came there. Everyone makes you feel comfortable. The beautiful surroundings when you arrive are very pleasant. Thanks to the staff.
Jackie R.
This was my second time I had to go back for treatment however, I couldn't be happier with the staff especially Ms. Jenna which gets you in and out 🙂
Everyone is super friendly and the office environment is very calming.
I will always recommend this office!
Very Happy about the outcome!!
Jasmin M.
Greatest staff. They explained everything with any and all appointments I have had, even talk me through the procedures. All over just amazing people.
Amanda B.
The office staff were incredible! Friendly and informative all the way! Only saw the doctor a few minutes, but he was patient with me and explained any queries I had. I'm a new patient and feel like I will receive good care here.????
Iva B.
Everyone in the office was so caring and nice to me. They knew I was feeling anxious and took extra care to let me know what was going to happen, talk me through the procedures and check in with me to make sure I was ok. My bandages had to be redone 3 times before the end of the visit (my fault- not theirs). Everyone pitched in to help re-wrap my leg and didn't seem at all bothered that it had to be done over. St John's vein center truly is "patient centered." Great experience, Highly Recommend!!
Patti W.
From the time I walked in I was welcomed they were just on point. My service with Melissa was great she made sure I was very comfortable and just did a great job, definitely want her to always be my go to person
Sharon W.
I sought out help from St Johns Vein center due to varicose and spider veins from pregnancy and had a great experience. Jenna did a majority of my treatments. She was thorough, precise and generally fun to be around. The office staff was professional and had good communication. My legs look and feel great! Would recommend to family and friends.
Elizabeth C.